Sephora is launching its first natural ingredients perfumes collections this September. Roman Bratschi, tastefully designed the gorgeous CGI "DO NOT DRINK" key visuals for the campaign – so good; we want to taste these!
The collaboration between Roman, NERD Productions and Sephora is a splendid one, just like the mix of elements inspired by nature and texture details that ultimately enhance the overall aesthetic of the products. We spoke to the team about the ways they brought these mesmerising concepts to life.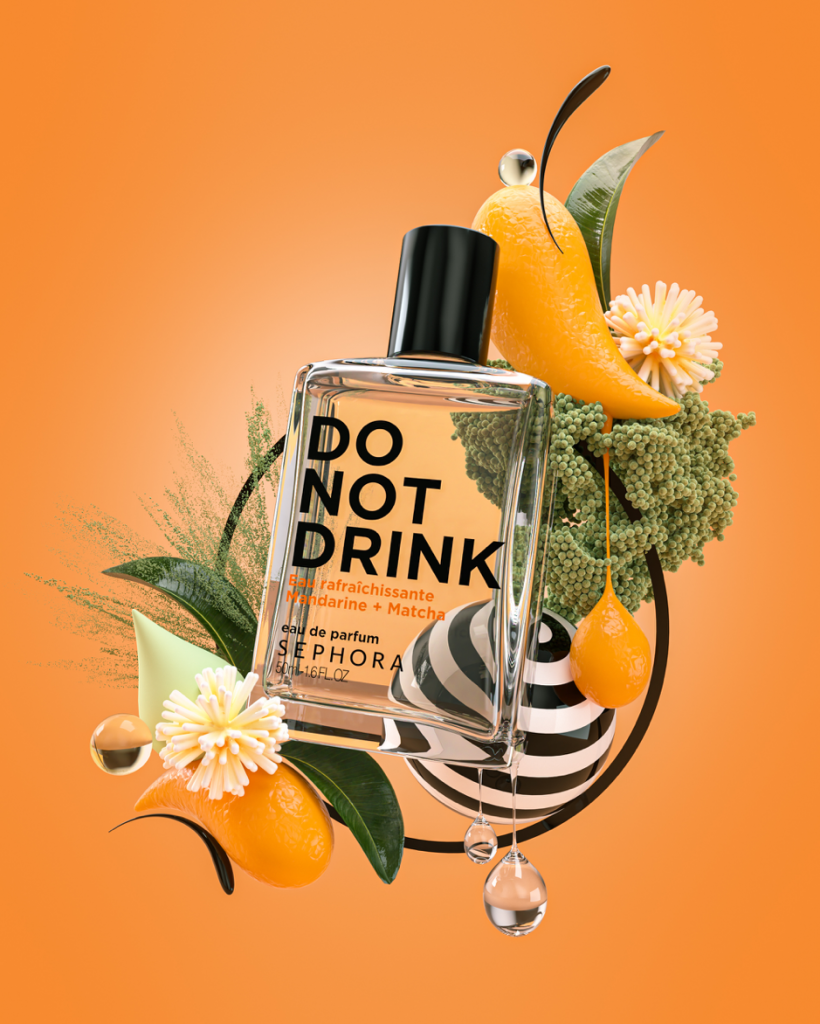 How did you think Roman will bring the product launch to life with his vision?
Celia Brady, Sephora: 'We wanted to create dazzling assets that are different from your typical perfume launch material. We leaned into this new breed of creativity that is thriving on Instagram. Roman has a distinctive vision, with an ability to create unique and eye-catching content. We wanted to give this perfume launch a distinct identity and present the primary scents and ingredients through Roman's quirky use of texture, shape and motion.'
Through 3D graphic visualisation, you explored tasty shapes for Sephora, how do you keep your unique and highly recognisable style while undertaking a client's brief?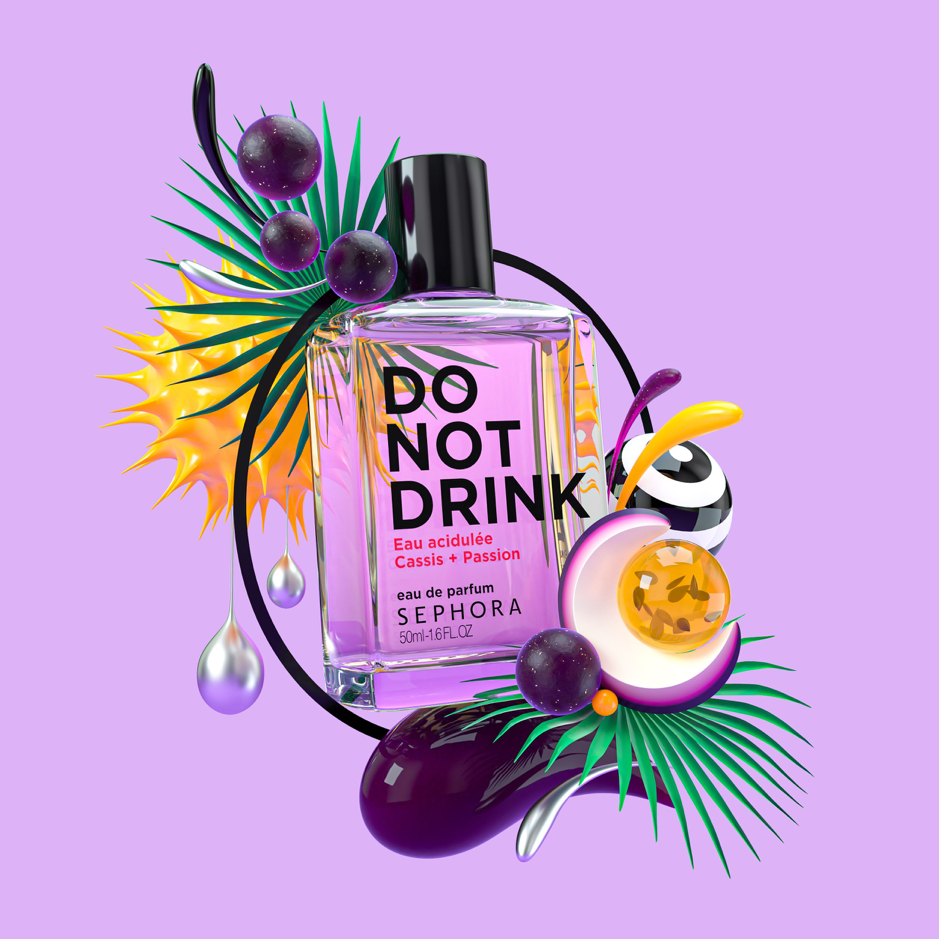 Roman Bratschi, NERD: 'As soon as I lay eyes on the brief, my brain starts working right away. I instantly start thinking about ideas that can combine the client's needs and my aesthetic. Further on, when the client, NERD Productions, and myself agree on an idea, I start working on it with my 3D software. Trial & error is a big part of my creative process – I like to polish and explore different shapes, textures and materials before coming up with the final style. This project was a perfect match; the client loved the aesthetic of my work, and it worked perfectly with the brief they handed-in to us.'
This brief was open and unusual "To Craft visual treats that resemble real tasty fruit most abstractly.' How do you manage client expectations on such a risky adventure, and how do you help the artist meet the brief?
Milana Karaica, NERD: 'Well, we believe that a genuinely collaborative approach starts with trust in the creative process and talent . This supports the delivery of successful projects every time. Throughout the process, we like to invite our clients into our world, show them how we craft, to develop these incredible visuals and films. Working with Sephora wasn't different. They trusted our approach and creative input so after that it became the perfect counterpart to the process. A dream collaboration and a dream project really!'
How did the visuals evolve to a moving image?
Roman Bratschi: 'Jessica Harington, gave us more inputs about the neurological aspects of the different tastes and how they are interpreted into different shapes, colours and textures. She also gave us some precious keywords on each fragrance which allowed us to find the right way to bring the vision to life.'
The stylistic approach is different from what you are used to, what were you hoping for when you got in touch with NERD Productions / Roman Bratschi?
Becky Owen, Facebook: 'We were looking for a challenge. We had a top-line concept, but we wanted to push this concept further. Roman's unusual sensibility is what drew us to him and was what we wanted to embrace in this campaign. We were looking for a different approach, and we got that from Roman and the NERD team.'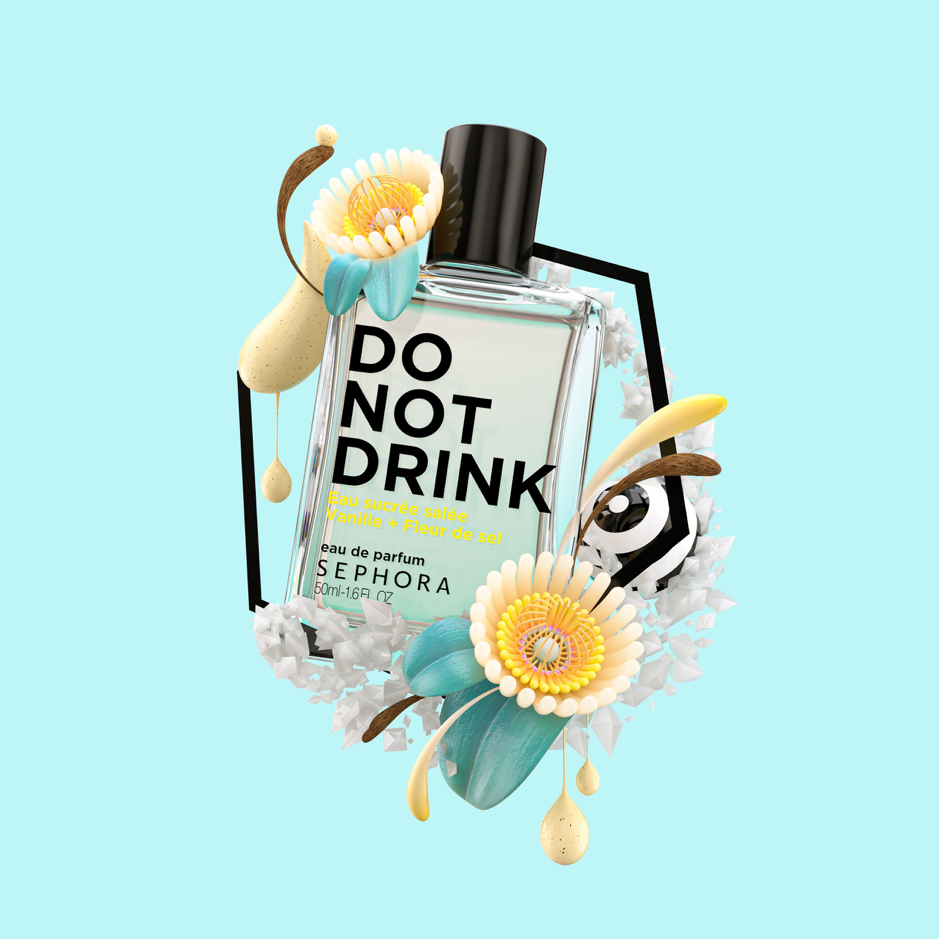 Where did your inspiration come from on this project?
Roman Bratschi: 'As it is about "DO NOT DRINK" I immediately thought about beverage ads. They are always very mouth-watering, bold and intriguing, and they play with the ingredients. It was my idea to create a beverage looking visual while keeping it abstract. We have crafted elements that aren't real things although you get a hint of what it is through colour, shape or size. It is down to the individual to construct their own interpretation of reality, which is essential when creating visuals for Social Media.'
Click here to view Roman's portfolio.
Want to work with Roman Bratschi or another NERD? Click here.