Early bird gets the worm or in this case – how to get young people to vote? New captivating and immersive stop-motion animation from NERD's Director Haylely Morris for MTV. 
The campaign focused on translating important messages and highlighting some of the main issues US citizens are facing at the moment. We were mesmerised by Hayley's imagination on how to carefully translate such important issues to young public through art. Our team grabbed Hayley to chat all things NERDy about this film.

We love the idea of such a short yet powerful message, how did you come to this?
MTV's campaign mission was to get young people out and vote for the Midterm elections in the US on Vote Early Day. The midterms usually don't have a large turnout like a general election, so we wanted to create something that told the message in a clear and memorable way. We brainstormed so many ideas, and in the end, we landed on the concept of "Early bird gets the worm". There are so many issues facing the country, but we decided to focus on Reproductive Rights, Gun Violence, Inflation, Racial Justice and Mental Health Care. Voting early tends to be easier and since there was the worry of voter suppression on actual election day, the importance of translating this in a digestible message was high.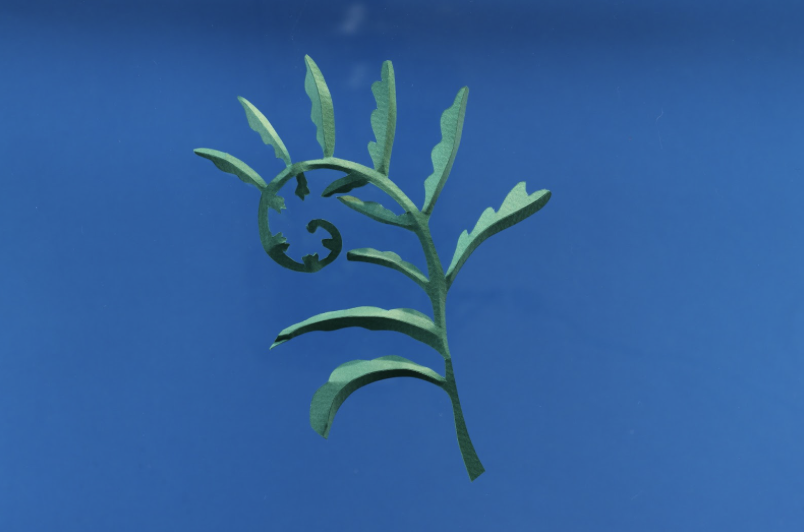 Birds often symbolise infinite possibilities, renewal, eternity, and the transition between life and death, what is the meaning of the lovely bird in this spot?
The bird was chosen mainly as a symbol for the early bird concept and how you can bring the issues you care about to the ballot box to make a difference with your vote. The bird itself is crafted out of an election ballot and it plucks the issues (worms) out of the ground to fly them to the ballot box.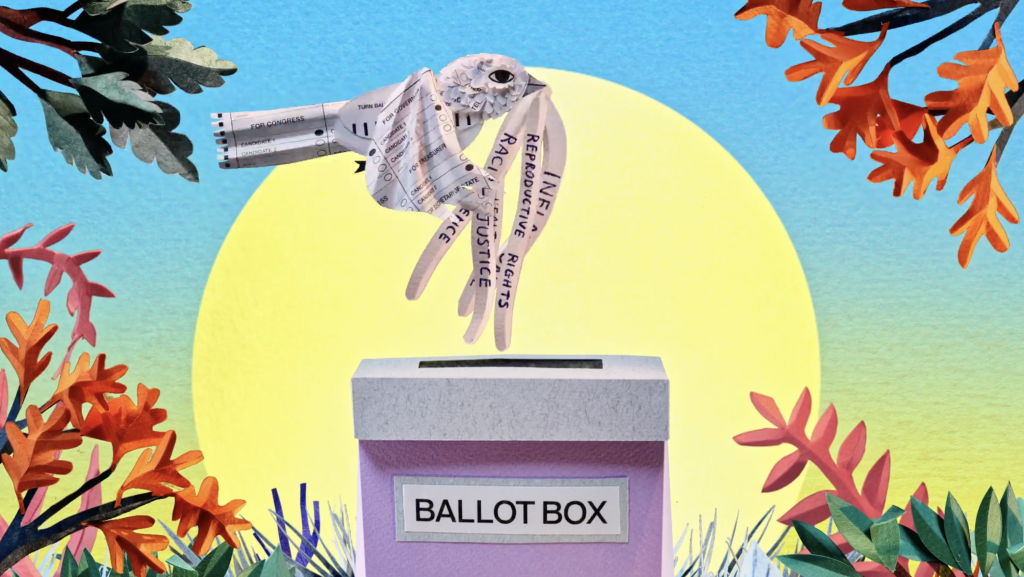 Being a stop-motion director you must be good at a few different handcrafts. Origami seems to have a particular place in this spot, is this something that you enjoyed long before starting your career or is it a skill you needed to acquire for the profession?
I love working with paper and have been manipulating paper through stop motion for a long time. In each project, I always try to do something new and see how I can push it in a different way. For this one, I really wanted to push the transformative quality of paper by having the election ballot fold up into the bird. I wanted the final bird to be very simple, but highlight the elements of the ballot that are important to read. The belly of the bird displays 'ELECTION' and the wings and tail says 'For US Congress' and 'For Governor' with the candidate's checkboxes.
I usually like to create a lot of my work in camera, but here I wanted to explore compositing more. I shot all of the elements on a green screen and mocked up the final scene for the compositing. Seeing it all come together was a lot of fun.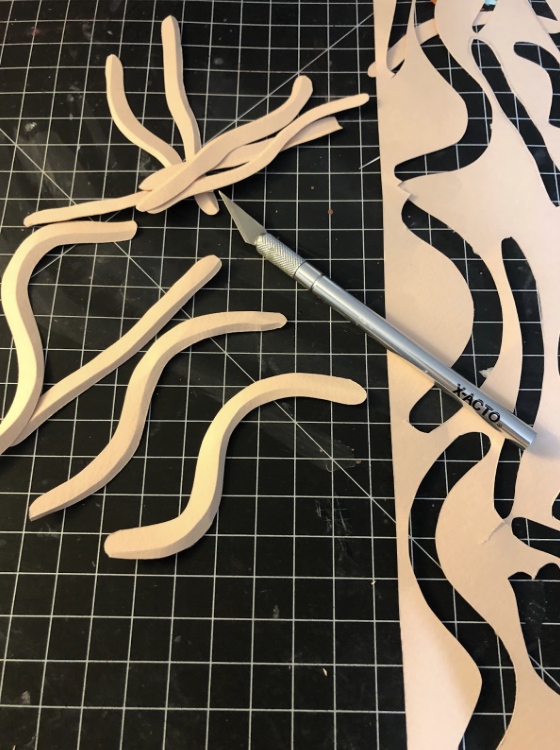 Your work is always so colourful and brings joy to every topic you cover, is it something you aim for in every project?
Thank you! The paper itself is always so inspiring. I love going to the art store to look and feel all of the papers available for their colours and textures. I try to craft sustainably where ever possible so I also enjoy searching through my materials and seeing what I can re-purpose and give a new lease of life to!
For this one, MTV wanted the colours to be close to their end frames which had blue, yellow and pinkish orange. I tried to bring those colours into all of the backgrounds so that the transition from the paper scenes to the digital end cards wouldn't be too jarring. It also helped make the white bird pop against the colourful backgrounds. It was so entertaining to explore what the underground scenes with the worms would look like, so I found some really beautiful Lokte paper in brown and maroon tones that were a nice contrast to the vibrant above-ground scenes.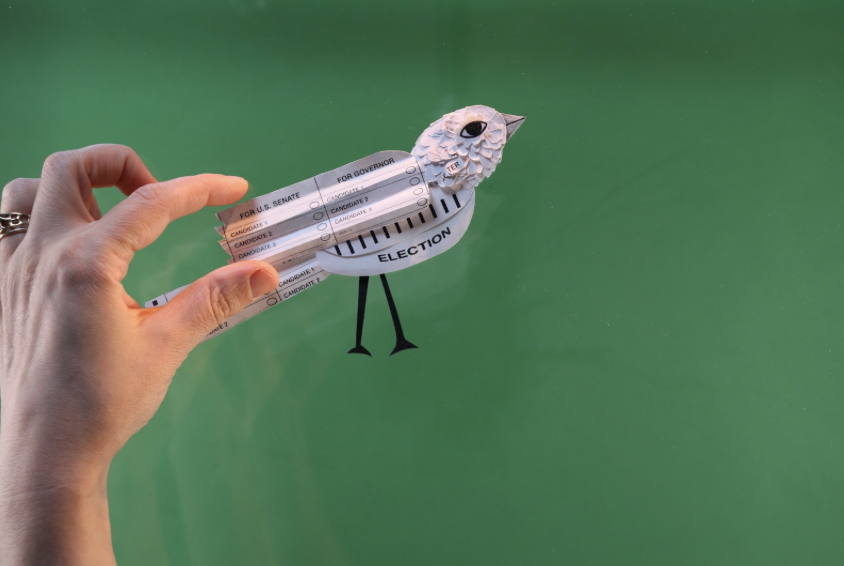 For fellow directors and animators, do you have any advice on how to make serious and important topics more fun through handcraft?
I would say it is a lot of brainstorming and just getting all of your ideas out. We probably went through 10 or so concepts before landing on this one. You have to dig deep into all of the ideas and then pluck out what the central themes you really want to focus on are. 20 seconds is not a long time to try and pack in big ideas, so you have to think of symbols and visuals for what you need to say in the most concise way. When it came down to sifting through our concepts, we wanted to stress how voting early is easier and focus on the issues at hand. The bird is a vehicle for change by taking the worms with the issues to the ballot box as the sun rises.
Many of our rights are on the line, like reproductive rights and the right to choose, and issues like gun violence just keep happening. There have been 604 mass shootings in the US in the year 2022. Inflation is making life unlivable and Mental Health Care is not affordable or accessible to a lot of people that need it. Racial Justice has so many layers but is tied to elections and voter suppression within communities of colour.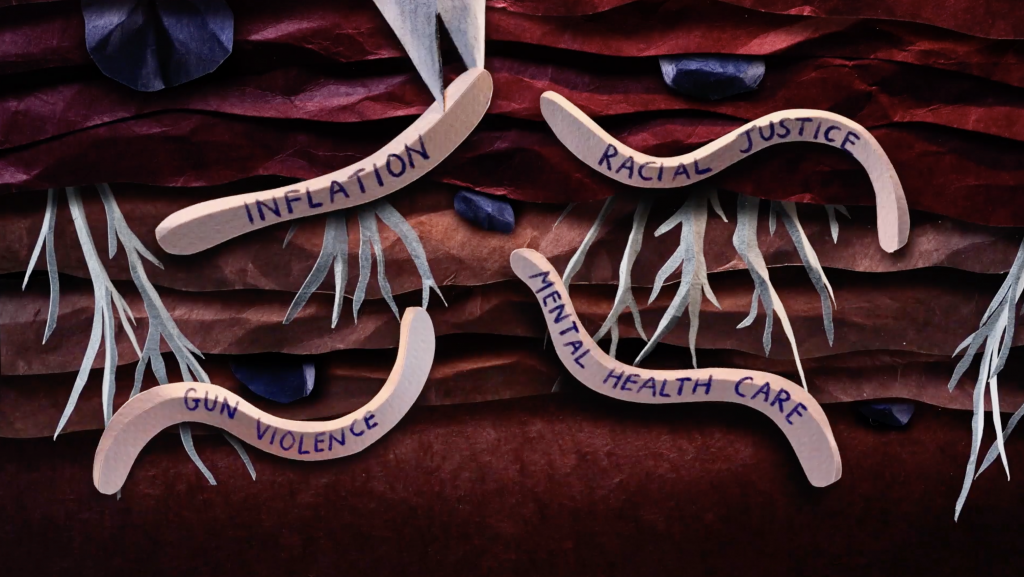 Hand-made animation also brings a human touch into the visuals that help to support the human issues we're trying to address. Even if the viewer doesn't realize these images are actual paper, there is something playful and relatable to the election ballot folding up and turning into a bird. When you go to cast your vote you are filling out little circles on a physical piece of paper and actually putting that paper into a box/or mailing it in an envelope.
There is a visceral connection between the paper and the act of voting itself. So for me, making this whole spot out of paper felt very appropriate in supporting the overall idea and concept.

Check out Hayley's profile for more here.