Exciting times at NERD! We had a chance to catch up with our latest signing creative powerhouse and stop-motion director Rachael Olga Lloyd. We spoke to Rachael about everything and anything under the sun, we hope you enjoy getting to know her as much as we did!


Growing up as a very British kid with a relaxed Christian upbringing Rachael was always a cheeky one with an overactive imagination. Art was one of Rachael's obsessions; she would make up fantasy stories, draw creatures, witches, and unicorns as a creative outlet. Rachael even had her own little club called 'The Creepy Club' where she would tell horror stories at her local school to anyone who would listen.
All these fantasy and horror stories made for a fun childhood and Rachael grew up as a mixture of extrovert and introvert, often switching between those two. Happy-go-lucky, she's always in touch with her inner child and that's apparent in her work. She's both her own harshest critic and her biggest fan!


Rachael kicked off her directing experience back at the university where she was studying Animation and her group of friends won a pitch to make a film for Fair Trials charity. It was her first job as a Director. Getting into stop motion was kind of an accident, allowing her to discover experimental stop motion and realise this is something she wanted to explore. Learning the craft is a continuous process and she always learns something new on the job (as well as discovering things on YouTube as she started out). "Make make make" is the approach Rachael stuck to to perfect her technique and create the stunning films she shares with the world.
The first job for Fair Trials showed Rachael that she can do what she truly loves and get paid for it too. A pivotal piece of work for her was the first film: The Lonely Mountain. After making that it felt like all the pieces fell into place and she understood that animation was what she wanted to spend her life doing. As an artist, she always tries to push her style towards something new – this time, music videos for Frances were a chance to explore her craft even more. Exploring one's personal style and applying it to their commercial work was the ideal way for development.


As a stop-motion director, a lot of craft is done by hand and this is what Rachael enjoys the most. Seems like a perfect situation doesn't it? She calls it 'therapeutic and rewarding as you always have a physical thing to show at the end for your time spent.' Stop motion involves a lot of problem-solving like making the idea into reality and finding physical things that reflect exactly what you have on your mind which happens to be 'the most rewarding part of the whole job' for Rachael.
Speaking of the nature of the job, uncertainty, when the work is slow, does bring its own insecurities, however, Rachael would hate to be a 9 to 5 person. The free time allows her to push her personal style and technique which always comes in handy for any project. Keeping herself fresh and open to new experiences, she enjoys hanging out with industry friends, attending festivals and building connections with people on production.


We see a lot of contradiction when dealing with stop motion: 'I always find it really sad when stop motion becomes so honed and perfected that most people don't even know its stop motion!' and for that reason 'stop-motion is one of the hardest mediums to use so why use it unless you fully utilize what is so unique about it; the handmade feel and the imperfections.'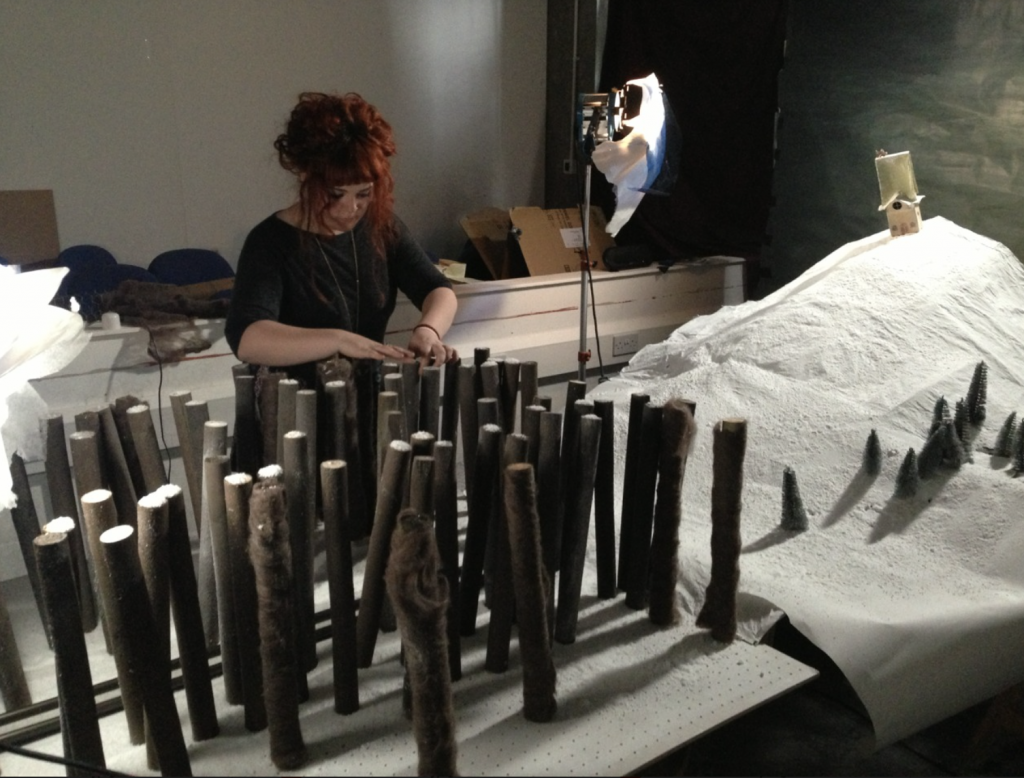 We always get excited about stop motion and it is very refreshing to see more and more stop motion animation spots where 'stop motion being released that is new, different and not aimed at children.'
As in any industry, there's always space for improvement and 'green lighting and encouraging more experimental and varied animation is appreciated. There will always be a lot of the same stuff being recycled as it is safe and lucrative. But more risks and pushing boundaries would help. '


Being inspired by women in the industry, Rachael feels 'women directors who have smashed through that cautiousness and have the complete confidence to believe in themselves and their work, and that inspires me a lot as I have had a struggle with it myself.'
Outside of the animation world, Rachael is very much a multi-dimensional individual who likes to hike, watch TV series (Korean dramas) and play computer games. Professional passion still doesn't go away when thinking about free time as she enjoys all different handcrafts, collecting home pieces during her travels and cats!


Being inspired by Tom Rosenthal and Keaton Henson, Rachel's taste in music, again, helps her explore different themes in her work. On a nerdy side, 'Surprise, surprise, I'm a massive nerd. I love gaming in my spare time, RPGs, board games and DnD if I have the time.'
Having followed through Rachel's story, we see her being always fulfilled by exploring her own style, inspired by everything around her and forever eager to explore. Her passion and drive for her craft make her a perfect match for NERD's roster, and we could not be more thrilled to have her join our talented team!