Happily raised in a rural Filipino town, Kulay grew up freely exposed to local artistry and cultural scenes. Then unaware of his capabilities, he already knew that he always wanted to be creating.
As a kid, Kulay spent a lot of time daydreaming and playing. In a family-owned general merchandise shop, Kulay had a treasury load of random stuff he would make into something. He loved to draw religious imagery in made-shift drawing pads that he stitched together from old notebooks and constructed art made of objects used by priests during mass.
With the multi-dimensional influence of the outer world on the Philippines' culture and history, it is safe to say Kulay inherited an exciting, eclectic aesthetic that is evident in his everyday life. Now in his thirties, he has learned to embrace the diverse culture of the Philippines. He thrives on living in the intersection of language, tradition, and meaning without losing sight of his upbringing on a little floating island in the Pacific.
Kulay is an introvert walking around in extrovert clothing. He is very spontaneous and loves to explore new things as long as it is not far off the outermost peripheries of his secured zone. With all the realities of living back home, he developed a great sense of grit, motivation, and courage to follow the path where his soul could freely sing.
Getting started in the industry
In 2012, Kulay graduated from the University of the Philippines with a bachelor's degree in Fine Arts. Then in 2015, he moved to the UK to take up his MA in Narrative Environments at Central Saint Martins-UAL. It was a good learning playground for Kulay to explore his trajectories, meet muses, and, most importantly, his tribe. Traditional art and design education gave him the time and space to reflect, think, experiment and converse with similar-minded human beings.


Everything happens for a reason, and Kulay's first crack at creative jobs was pure luck, but he did spend his youth burning all the artistic fuels and has been creatively working hard to prepare him for his first position. His first job in the industry was as an art director for an independent creative agency alongside freelance design works.
Kulay loves to immerse himself in experience. He believes that human experiences make one's creative practice richer and distinct. Therefore, he makes sure to absorb many inspirations and learnings from different fields.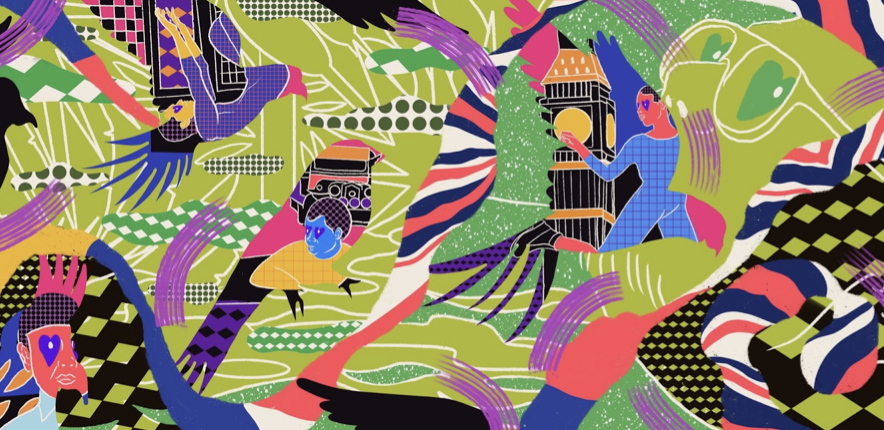 Going through the years of his experience, Kulay mentioned it always pays to be kind. People you meet along the way are there for a reason. However, what pushed everything forward was his fearlessness in following his gut. In Filipino, they always say, "Ato lang nang ato at gawa lang nang gawa," which translates as try and try, work and work.

The work, the work, the work

Before doing illustration, Kulay worked with art installations for performances. Telling stories through space shares a lot in common with telling stories through images; the only difference is how one arrives at the destination. Different mediums of work have impacted Kulay, but his piece for Kasa and Kin, launched at the end of last year, created a good amount of traction in the local press. It is, for him, the closest marriage of his present and past life as an image breathing in an enormous expanse of physical wall space. He is looking forward to making his illustrations more experiential.
The favourite part of being an illustrator for Kulay is the creative process itself. He enjoys research, conceptualising, and getting lost in the craft. Kulay is lucky to be able to do what he loves, but as he likes to say, it always comes with a certain level of perseverance and commitment. Beyond this, receiving messages from young Filipino creatives back home that, in one way or another, found inspiration in his story to make something of what they do now makes all of this worth pursuing.
The most challenging part of every project is the beginning of it — especially the introduction and the negotiation. As much as he tries to be better at it, he feels those are not his superpowers and are best left to the incredible team of producers at NERD Productions.
Kulay looks at his creative practice of illustration as a spiritual experience, almost like a religion. He says that there are three things we all want in life. First, to make our parents proud. Second, to reach for that one star, we are all looking up to. And finally, to be part of something that impacts others. Therefore, Kulay aspires to be relevant so that he can utilise his craft as a vessel for the greater fulfilment of his purpose.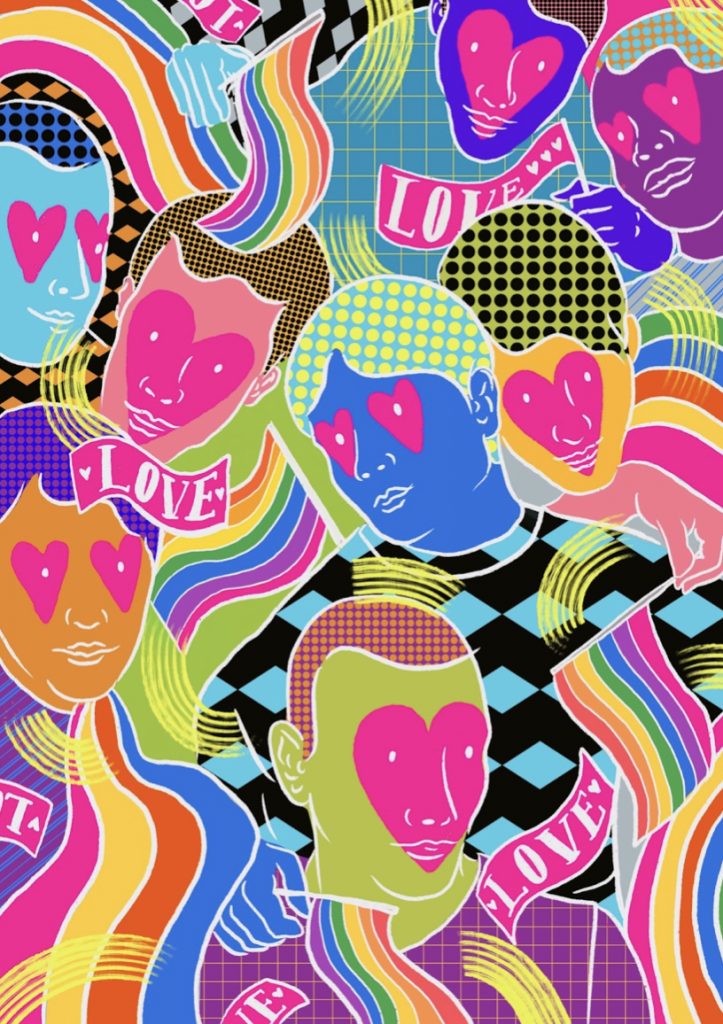 By digging deeper in skills, Kulay tries to constantly explore new ways of doing, materials, and scenarios. But most importantly, by giving himself permission to be still and be in solitude. We are constantly consuming information every second of our lives, and moments of quiet help Kulay develop his original ideas.
Kulay's Passions and inspirations
Outside work, he likes treating himself to loads of Gelato, morsels of brownies, and hours of a good bath. He is passionate about Filipino culture. Especially the Filipino language. Words capture stories, histories, cultures, emotions, and imagination. Kulay is very passionate about narrative arcs and story structures.
He likes the art of film. He loves going to the theatre and enjoying colourful arts, exhibitions, prints, or digital. Kulay loves immersive narrative experiences. He also likes indulging in good food.
As for his hobbies, he loves illustrating. Kulay is currently working on an illustration passion project called BRGY Hall. BRGY is an abbreviation of the Filipino word Baranggay, a local community of several households. BRGY Hall reflects Southeast Asia's history as told by a migrant gay man living his dreams in London whilst expounding on the idea that we are all walking micro-universe. He is looking forward to sharing this with the world once they are ready.

With all the blessings and opportunities that opened for Kulay, he thinks he must have done well in his past life. As mentioned before, creativity for Kulay is almost his religion, and he becomes a better person the more he makes better things. What immensely motivates him in life apart from his loved ones is creativity itself, but more importantly, that sense of paying everything forward, hoping to be that person he needed when he was younger to others.

All these things and many more are what we love Kulay Labitigan for. His incredible art, view of life and unique perspective make for a fantastic addition to our creative powerhouse at NERD Productions.

See more from Kulay here.