Illustrator Luke Preece's guide to finding your own identity as a visual artist and turning your passion into a career.
Before I focused on illustration I was a graphic designer full time and a musician as a side hustle. I could definitely talk at length about my career choices and how I ended up where I am today. It might be beneficial to others coming up… I like helping younger generations where I can. I'm a father to two girls so the parent in me naturally wants to encourage being creative as a viable career choice. There's never been a better time than now… The opportunities are endless.
How did you start out in your career?
I've loved drawing since I could hold a pencil. When I reached the age of 11 I also started playing guitar because I wanted to be James Hetfield from Metallica. The idea of being an illustrator/musician for a living wasn't really a reality to me back then – well if it was, I had no clue how to get into either of those things. This was pre-social media so information was a little harder to come by. I was just happy to be doodling away and shredding on my guitar.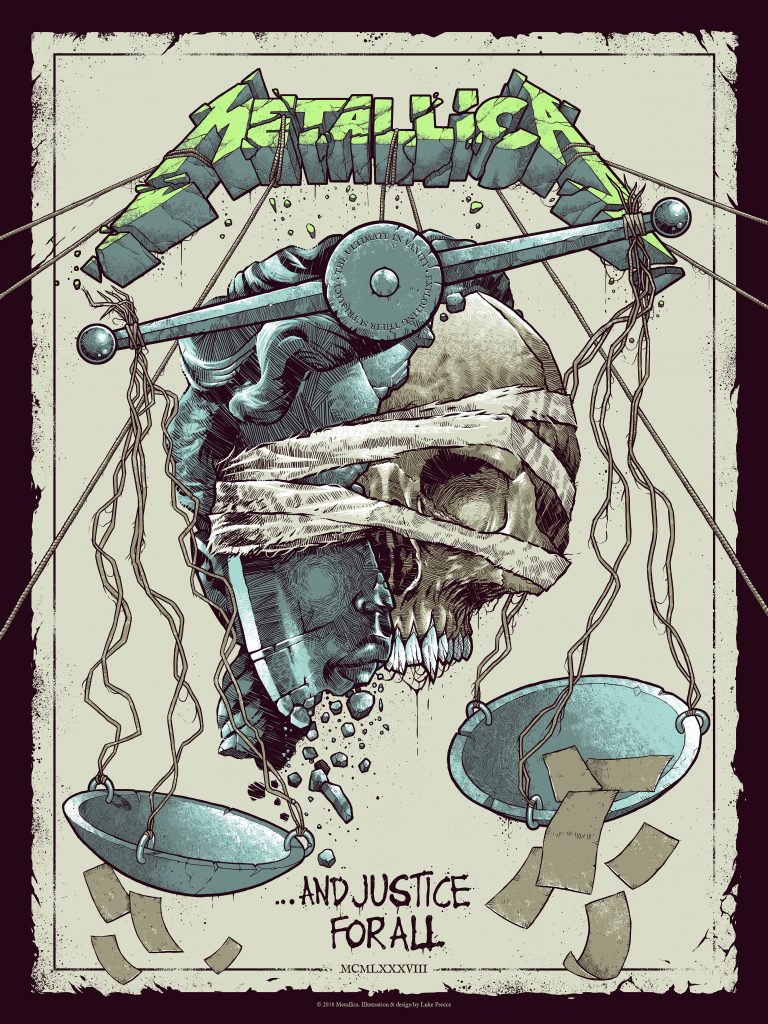 After finishing my A-Levels, I went to Bourneville art college in Birmingham, where I studied a Foundation in Art. In 1998, I started my first job as a Junior Graphic Designer at a small studio where I learned how to use Adobe Photoshop, Quark Xpress and Macromedia Freehand. The idea of doing anything creative as a job really appealed to me. Gaining knowledge from others at the studio was great too. I learned a lot during that time and it was instrumental in the early part of my career development.
After a few years of working at different design studios, I landed a job at 2000AD Comics in Oxford. I'd read the comics growing up but mostly I loved the amazing artwork. They needed a Graphic Designer to help put together their new line of graphic novels. This didn't involve any illustration work, but what it did do was reignite my passion for illustration again. I felt inspired… little by little I started creating my own personal pieces using a Wacom Intuos 3 drawing tablet. The drawings I did back then were pretty bad but I enjoyed learning new skills and I was happy to be drawing again.
I stayed at 2000AD for around 9 years. After this, I started working as a UI artist in video games all while creating my own illustration work in the form of fan art and the odd gig poster.
What was your composition style like then? What inspired that?
My composition has always had a graphical feel to it. I wouldn't say my style has changed that much. I think my work is definitely more refined and detailed now…
What different style phases have you gone through, or has it always been the same?
I often created artwork that would be used for movie & gig posters through various galleries in the US; these tend to be screen printed in a limited colour palette. I would start out with black linework, and then the tonal colours sit underneath. To add more depth, I started to use intricate linework and hatching, which developed over time. The only thing that has really changed is that I now use a more vibrant colour palette
How does your visual style compare then, to now?
One of my early pieces was a poster for the movie Predator. As you can see (below) this has a muted colour palette whereas this later piece for Metallica (below) is filled with colour and I feel my linework is more refined.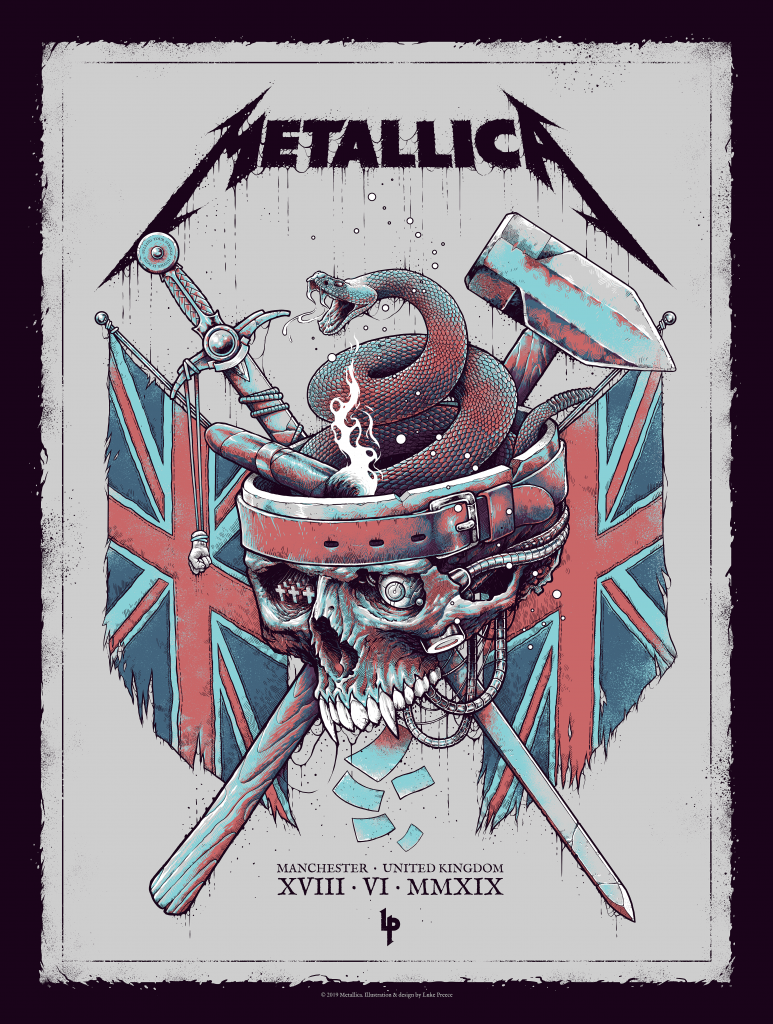 What inspired those changes? Was it things you saw, things you experienced, or simply maturity?
I think it's because I became more confident in my work. It's something that has naturally evolved over time. I think it's important to keep evolving to make things interesting and exciting.
Did your previous styles feel "you"? How did you know this was the right one, or perhaps do you feel it will always change?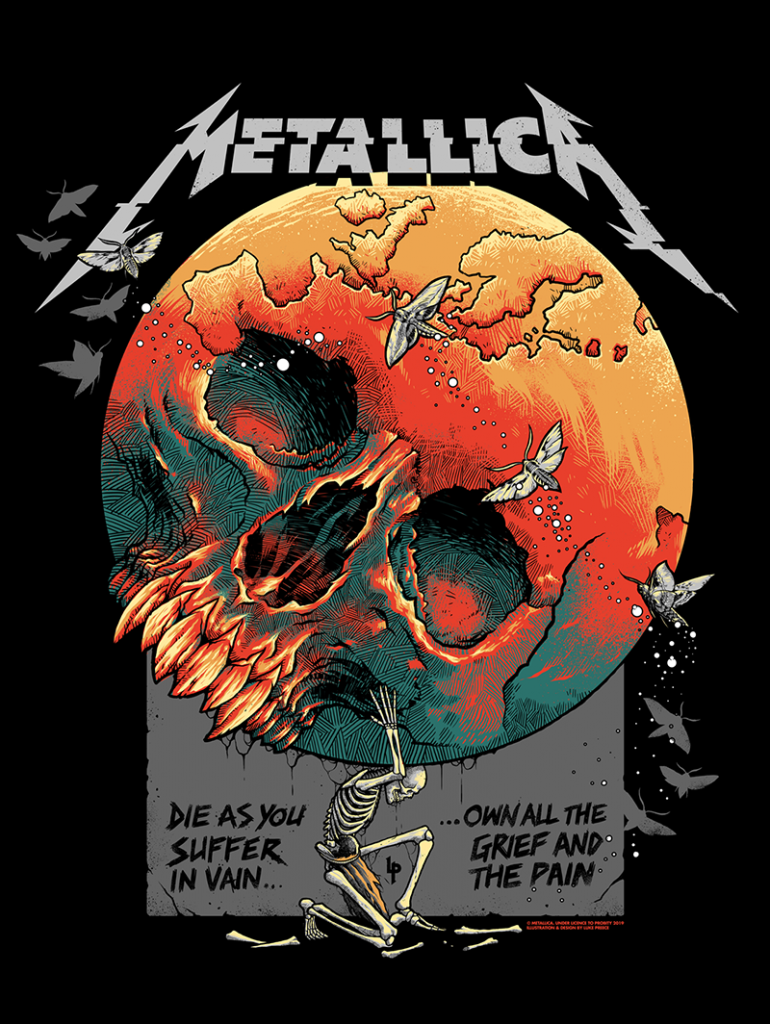 I'm sure that I do have a style to my work. It's what comes naturally to me at that moment in time… My main goal when creating a piece is to try and better the last thing I did. Who knows where it will be in 10 years from now. That's what makes it interesting.
What can you use to help you work out/build your own visual identity?
The artworld is filled with so much great stuff. It's very inspiring but also quite intimidating at the same time. When starting out I didn't really have a grand plan, I just knew what I liked visually. I tend to lean towards visuals from the alternative music scene and underground culture I guess. This is what I was into growing up. I am a big fan of film, heavy metal, video games, and skateboarding. I'm not the first person to do hatching in their linework but I'd like to think that by combining this with my knowledge of graphic design and layout I've created my own visual identity.
How would you describe your visual identity now?
Fine art with graphical elements and layout.
What gives your work the distinct and recognisable Luke Preece stamp? What makes it unique, in your opinion?
Not only do I create bespoke illustration, but I'm also able to combine it with strong layouts, which can be useful for marketing material, merchandise, and product design. Good examples of this are the Gears 5 / Rockstar Energy Drink marketing campaign, and Zombie Army 4 Collectors Edition Boxset (released on PS4 and Xbox).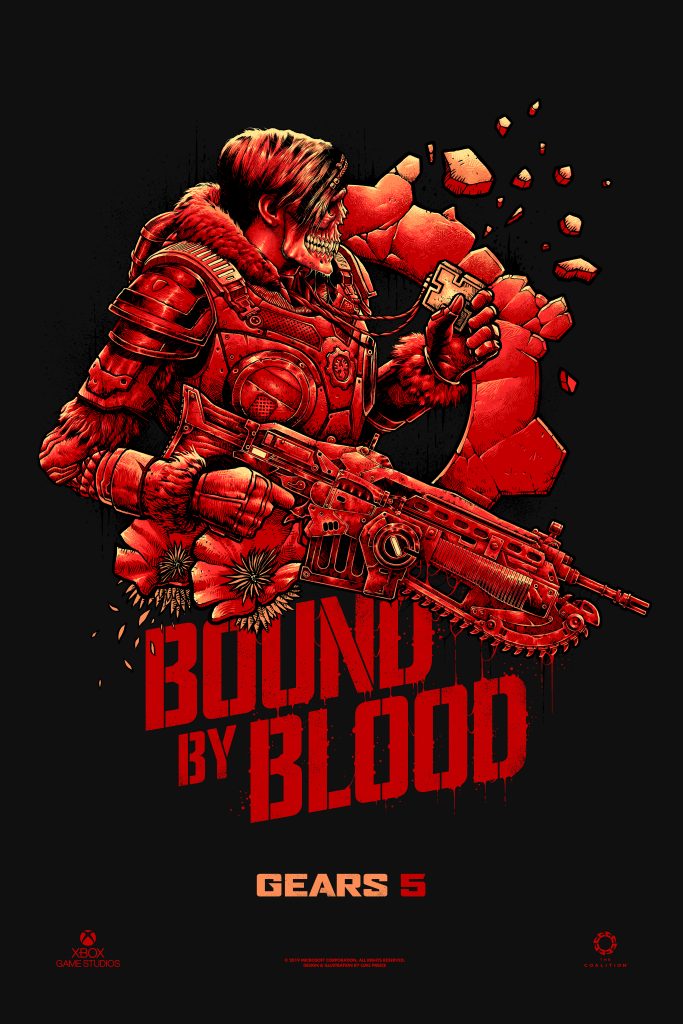 How did you develop your visual style/identity?
Practise, practise, practise and sheer determination. I spent years sending emails and portfolios out to people to be told: "you're not good enough". At the time I'd feel pretty let down and disappointed. It can take years to get to where you want to be. I used those knockbacks as fuel to be better and improve as an artist. I loved creating so my passion got me where I wanted to be.
Do you use any other tools/marketing methods to help develop your visual identity/brand further?
Without Instagram, I don't think I'd be where I am now, it's a great platform for visual creatives. I use Facebook and Twitter too, but Instagram is the one platform that helped me gain a strong online presence. I also built my website using Squarespace which links through to my social channels and store page.
How has building your brand benefited you?
My client base has expanded internationally, and people are approaching NERD, my current production home, for work rather than me hustling all the time! It's also gained me recognition from Wacom who have been very supportive and made sure I've got the best hardware in the business. A great feeling!
If you had to give one piece of advice to our budding artists and creators, what would it be?
Be passionate, have a strong online presence and don't expect it to happen overnight! Keep on hustling.
Click here to view Luke's portfolio.
Want to work with Luke Preece or another NERD? Click here.